A perfect construction that turns your pool into the perfect training and entertaining center
Barak Tzur, a successful personal trainer, health journalist, and celebrity coach seen in fitness TV shows that include the Israeli version of The Biggest Loser, founded NinjaPool in 2020.
In 2003, Barak originally founded the company Switch Active. That company has been producing some of the biggest and most popular sporting events in Israel for the past 19 years.
Switch Active has not only built some of the largest obstacle courses in Israel, but it's also produced numerous ninja festivals and was one of the leading companies to assemble the obstacle courses for the first season of Ninja Warrior Israel.
Switch Active's specialty and primary focus has been to infuse the joy of physical activity with a fun and empowering experience for people of all ages. This gives everyone the opportunity to choose the perfect activity that suits their body weight, fitness level, coordination and more.
Just as things were continuing to thrive for Switch Active, the Covid Pandemic hit in 2020. This caused a sudden halt of most sporting events and shut down gyms across the globe. This lead Switch Active to quickly adapt and change course.
Once Covid hit, Switch Active pivoted and switched their focus to the home market sector. There was a growing demand for creating an entertaining fitness environment for those with a backyard or pool.
To meet the demand in this growing market, Switch Active designed, developed, and manufactured home devices that could be easily installed in any backyard area. But the company soon realized that there was an even bigger potential for turning home pools into a sports, training, and entertainment center for the entire family.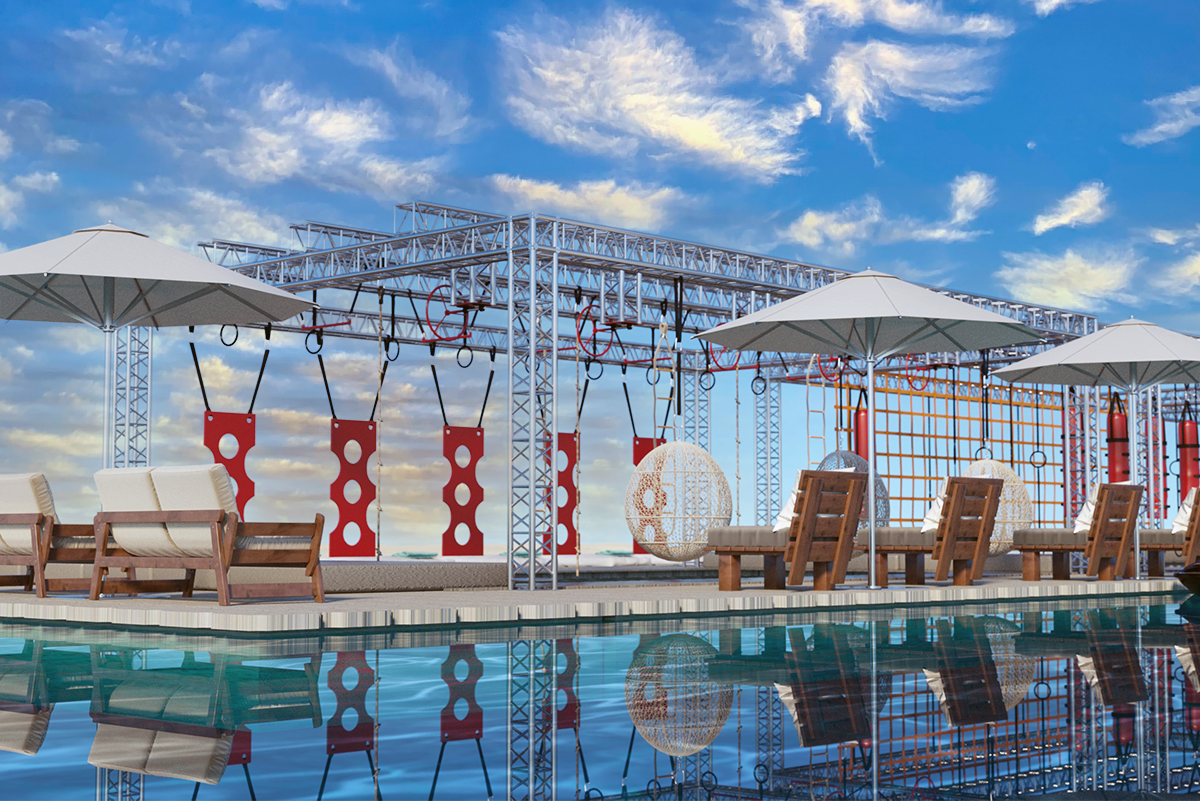 Coming Full Circle -
The Birth of Ninja Pool.
As a young child, Barak was considered overweight despite being a highly competitive swimmer. For several years he would train 5-6 days per week in a standard lap pool.
Despite his great accomplishments during numerous competitions, Barak found himself getting bored with the standard routine. He began to ask himself these important questions…
"Is this routine of repetitive swimming back and forth, lap after lap, all a person can really do in pool?"
"What could be changed to make this not only more enjoyable, but also help boost one's fitness levels at the same time?"
One key component of Barak's swimming training included fitness and strength workouts. It was these types of workouts that became the most challenging due to Barak being overweight.
What he discovered was that his inability to do pullups caused a "switch" in his mind and body that allowed him to eventually lose 1/3 of his own body weight at the young age of 13 years old.
Why not utilize the space above a pool for other exciting and enjoyable fitness activities?
This way anyone (despite their age or body size) could have fun while also using their natural body weight to get into better shape. And the best part of all – their own weight would also be neutralized and stabilized since their body would be partially submerged in the water.
It was in that moment that Barak knew he was onto something big. His "AHA!" idea for Ninja Pool…
Utilizing the open space above any pool for challenging fitness activities could serve practically anyone – from everyday people to more elite athletes. And knowing there would be a refreshing cushion of water below if anyone were to fall made it even more appealing.
Creating this kind of jungle-gym like environment above any pool, complete with zip lines, comfortable hammocks, monkey bars, and more made common sense. With the right construction, any pool could be instantly transformed into the perfect training and entertaining center for individuals or entire families.
And that's exactly what Ninja Pool is now offering pool owners like yourself!